Changelog
Introducing the Kolide Desktop App
March 22nd, 2023
Note: the desktop app is only available for organizations using our Device Trust for Okta solution
We're excited to announce the next piece in Kolide's Device Trust solution: the Kolide Desktop App.
Kolide will always inform users about blocking issues during the Okta authentication process. In addition, users can visit the End User Dashboard to review any open issues.
Still, given the importance of keeping devices in compliance (and thus able to access apps), we didn't think that was enough. We want everyone to be able to access up-to-date device status information at all times–not just during authentication.
Enter the Kolide Desktop App - an unobtrusive menu bar icon that gives users an at-a-glance heads-up on their device status.
It's available for customers today on your macOS devices. Actually, it's available for Windows too. In fact, it's also available for your Linux devices!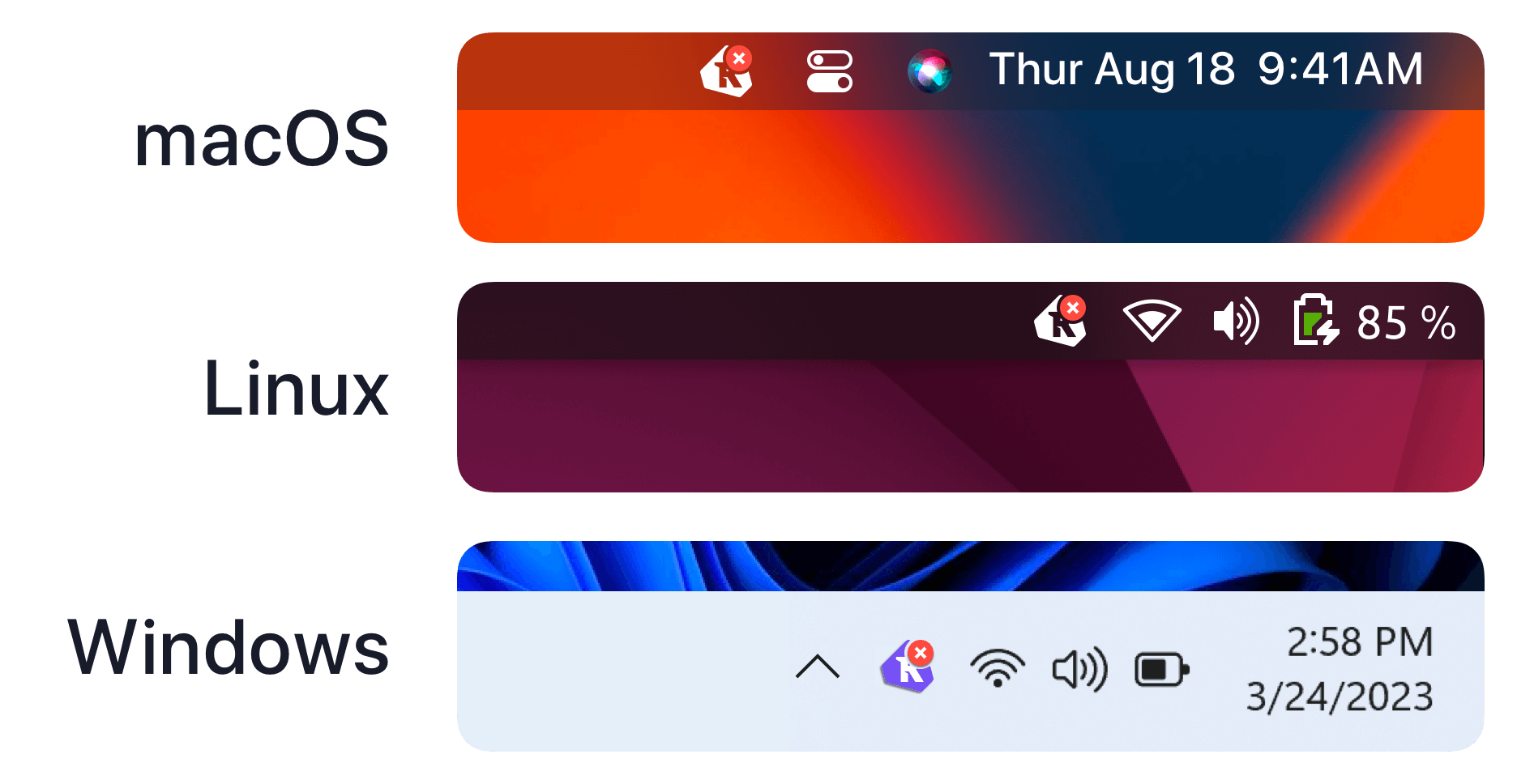 The Kolide Desktop App is designed to keep end users informed about their device's posture and Kolide's agent at all times, instead of only during Okta authentication.
You can easily see your device's authorization status via a menu bar icon. When Kolide detects an issue that is blocking/will block your device, the menu bar icon will display an alert symbol indicating that attention is needed
An unadorned Kolide icon means all is well (nice work)!
Clicking the menu bar icon will give you further useful information: if you're blocked, you can navigate directly to the End User Dashboard to learn how to remediate your open issues.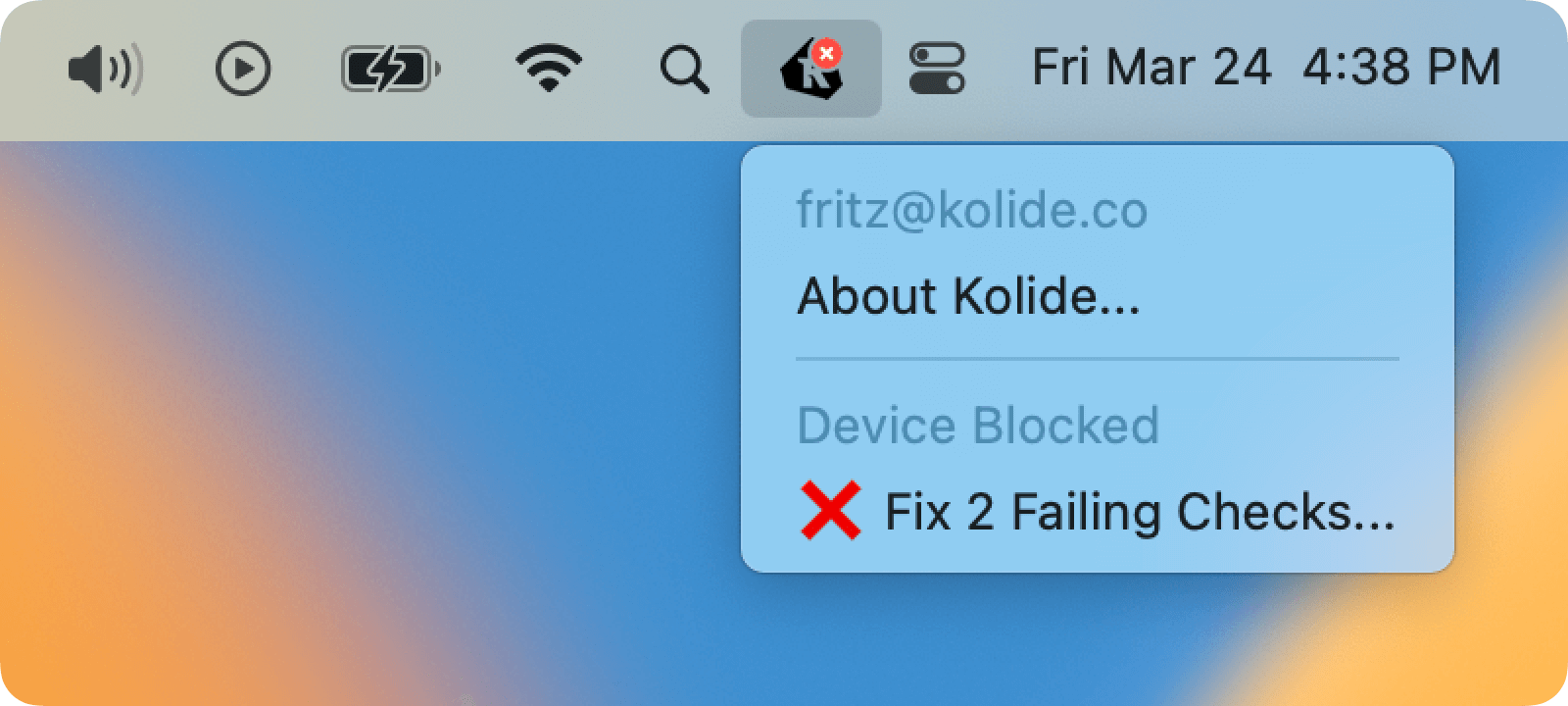 If your device has open issues that are still within the grace period, you can click to see when the grace period ends and you'll be blocked. From there, you can easily navigate to the End User Dashboard and resolve the issues before they interrupt your access.
What if you're the type who just doesn't pay attention to the myriad icons in your menu bar? Never fear, Kolide's Desktop App can help people like you as well!
In addition to the handy menu bar icon (did we mention it's available for macOS, Windows and Linux devices?) the Kolide Desktop App also delivers notifications when your device's state changes.
If your device becomes blocked (either because you recently configured a Check to block authentication, or because the grace period on a failing issue has run out), you'll get a notification.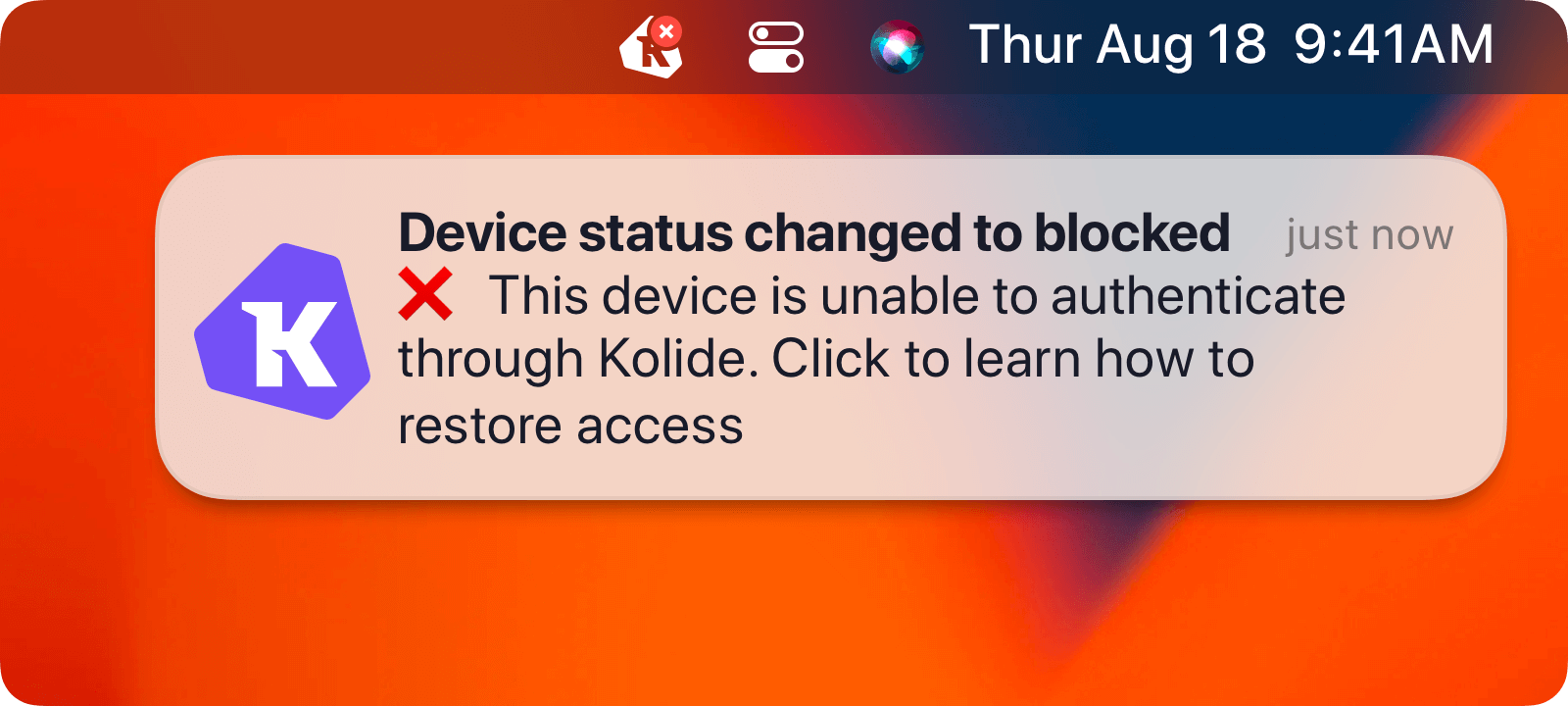 If you've been running with all systems green, but a newly enabled check finds an issue on your device, we'll be sure to let you know about that as well!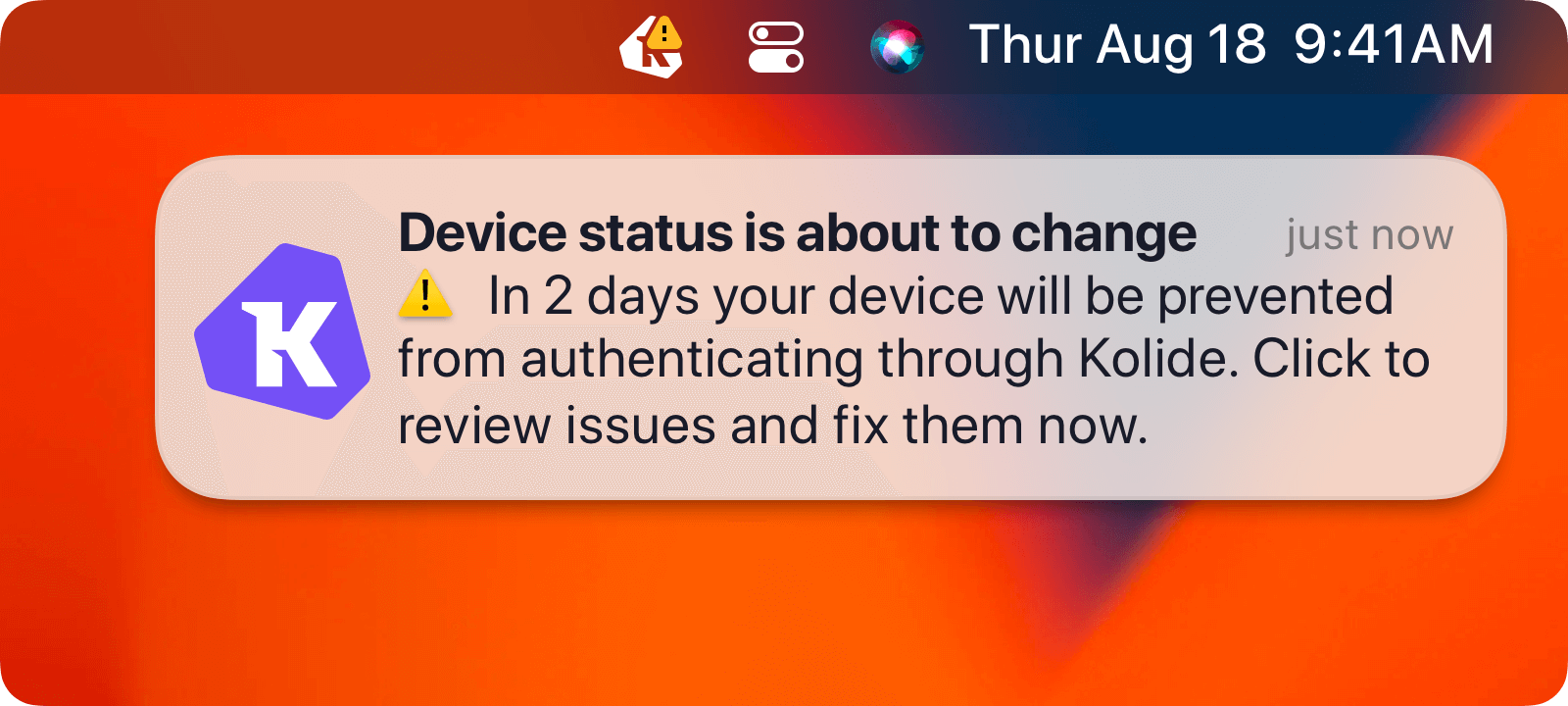 Once you've rolled out Kolide's Device Trust solution, end-users will be interacting with us a lot – every SSO authentication has the potential to result in a message from Kolide.
Therefore, it's important for end-users to be familiar with what Kolide is and what we do before they get their first 'Your device is blocked' message. That's why you'll always notice an 'About Kolide' menu item that will allow you to learn what to expect from Kolide.
Additionally, the menu bar's 'View Details' link will bring users to the End User Dashboard, which includes the Privacy Center. Kolide's Privacy Center plays an important role in our commitment to Honest Security, and is a crucial part of the end-user experience.
Actually, nothing! The new Desktop App is already bundled with the Kolide Launcher agent, so you don't need to install anything else on your devices. Chances are, if you haven't gotten a notification from it already, you will soon.
You Should Know: Registered Devices Only (for now)
For now, while you are still rolling out Kolide as part of your Device Trust solution, Kolide's desktop app will only be visible on devices that have already been registered.
While we're excited to get the Desktop App into your hands, we're equally excited about the possibilities it opens up in the future, and we already have more features in the works!
---
Want to see the the rest of our Device Trust solution? Watch an on-demand demo to see Kolide in action.