Changelog
Introducing the Kolide Slack Home Tab
Kolide recently upgraded its Slack app to take advantage of a new feature called the Home Tab. This new tab allows Slack applications to create a persistent surface where they can display important information to a user that isn't structured like a conversation.
Kolide plans on using this area to increase the discoverability of end-user-focused features. We want to give device owners a clear and easy way to access important information about the security of their devices, without having to remember to type specific commands.
Our initial implementation offers end-users the following:
Convenient access to the Privacy Center  
A button to easily access the device enrollment workflow
Visibility into their assigned devices including their open security recommendations
Here is what it looks like!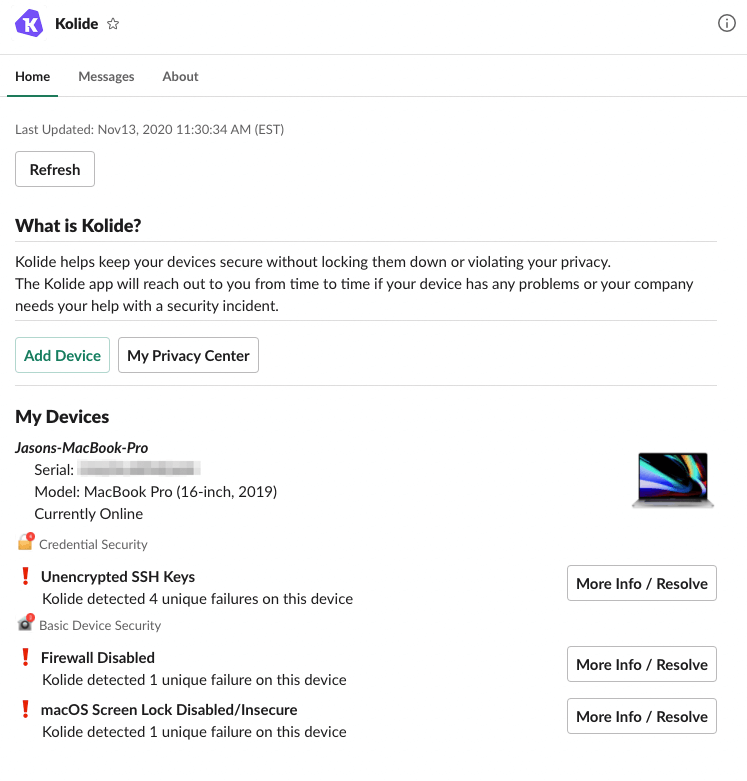 As we roll-out new user-focused security features in Kolide, the Home Tab will grow more and more important. We envision this tab being the key place for end-users to start and manage their Kolide journey.
Please stay tuned for future updates!