Changelog
Kolide Announces Okta Device Trust Integration
February 3rd, 2023
Today, we are excited to unveil an exciting evolution in how Kolide handles end-user remediation: Okta!
Over the last few years, we've seen the potential for Kolide as part of a Zero Trust access model. In this model, if a device isn't compliant or isn't running the Kolide agent, it can't access the organization's SaaS apps and other resources.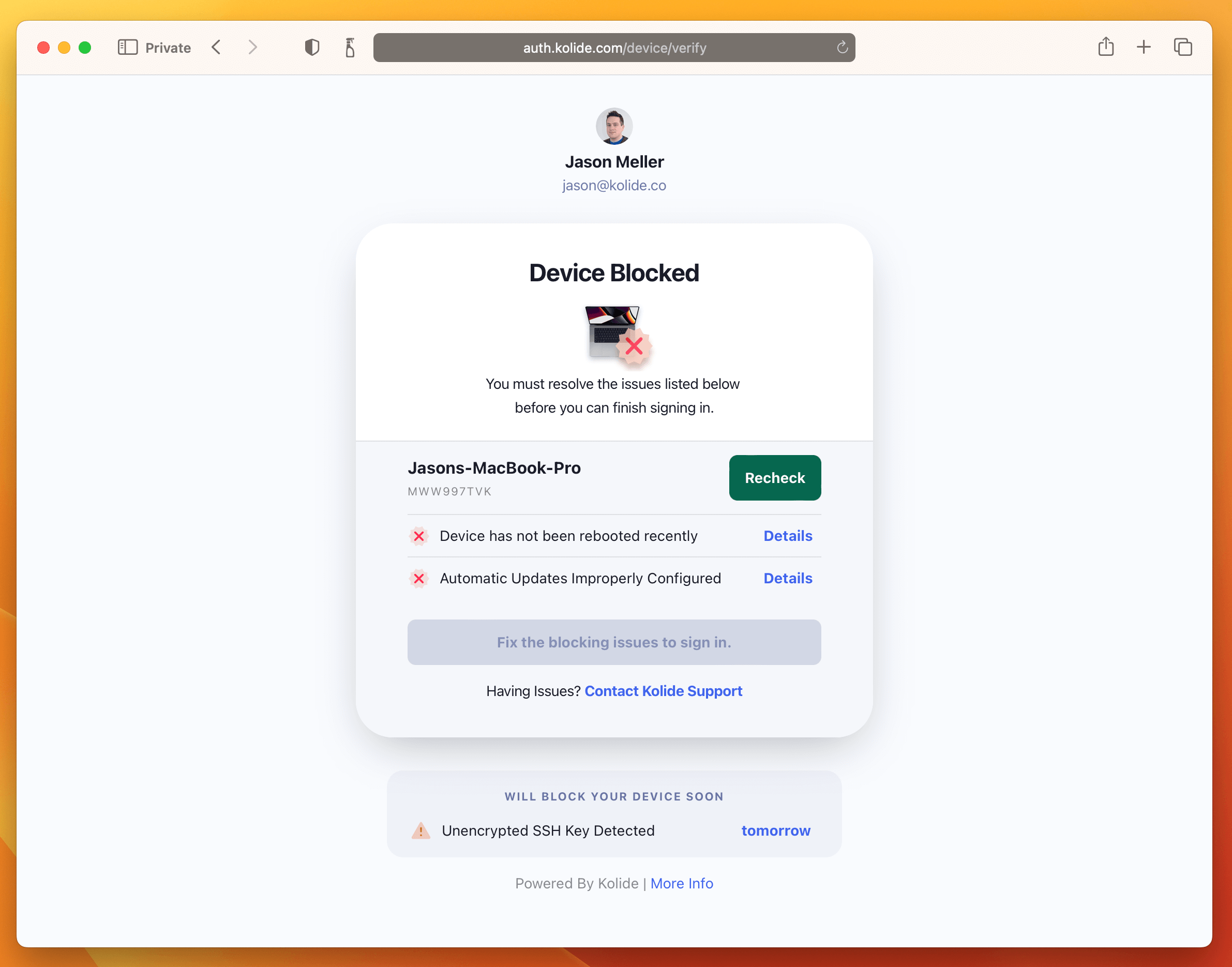 A screenshot of our new Okta integration. Users see this when signing into any Okta protected app from a device that fails a posture check.
In our beta tests, we've found that customers who use Kolide in this way get their devices to nearly 100% compliance across all of their Checks. Devices and browsers get patched faster and with less end-user frustration. More importantly, devices stay compliant. Building Kolide into the authentication process and introducing real consequences for non compliant devices is the most effective way to use Kolide, far exceeding the efficacy of the notification-only approach we enable through our Slack app.
Given the results above, it's time we made this a first-class feature in Kolide so that more of our customers can take advantage of these results. With that, I'm excited to announce Kolide's new integration with Okta.
Here's a video rundown of how it works:
We are so confident in this new approach that, effective immediately, we will stop offering trials of the Slack app for new customers. Our website will change to reflect this shift, and you'll see us increasingly promote this new approach.
For our existing customers, we've prepared new per-user pricing for companies using the new integration, so you can make the switch without worrying about how many devices are enrolled.
Here are some things you should know:
If you have Okta and we haven't already reached out, please get in touch with us so we can show you a demo and get you started.

If you are using another SSO provider and have no plans to switch to Okta, we'd love to hear from you so we can keep you in mind as we explore integrations with those platforms. Our goal is to eventually allow our existing customers who don't use Okta to take advantage of this Zero Trust access model, but it's going to take time.

Until we can transition your account to our new model, nothing changes on your end. We will continue supporting Kolide's Slack app until we have further news. At a minimum this will be through 2023.
This is the beginning of a very exciting chapter for Kolide, so stay tuned!