Changelog
Introducing the Check Catalog
June 24th, 2022
Two questions we get a lot are:
How do I know when Kolide ships a new Check?
Where do I even go inside Kolide to find the Checks that are available to add?
Well, I'm excited to share that both of these questions have much better answers with the addition of our new Check Catalog.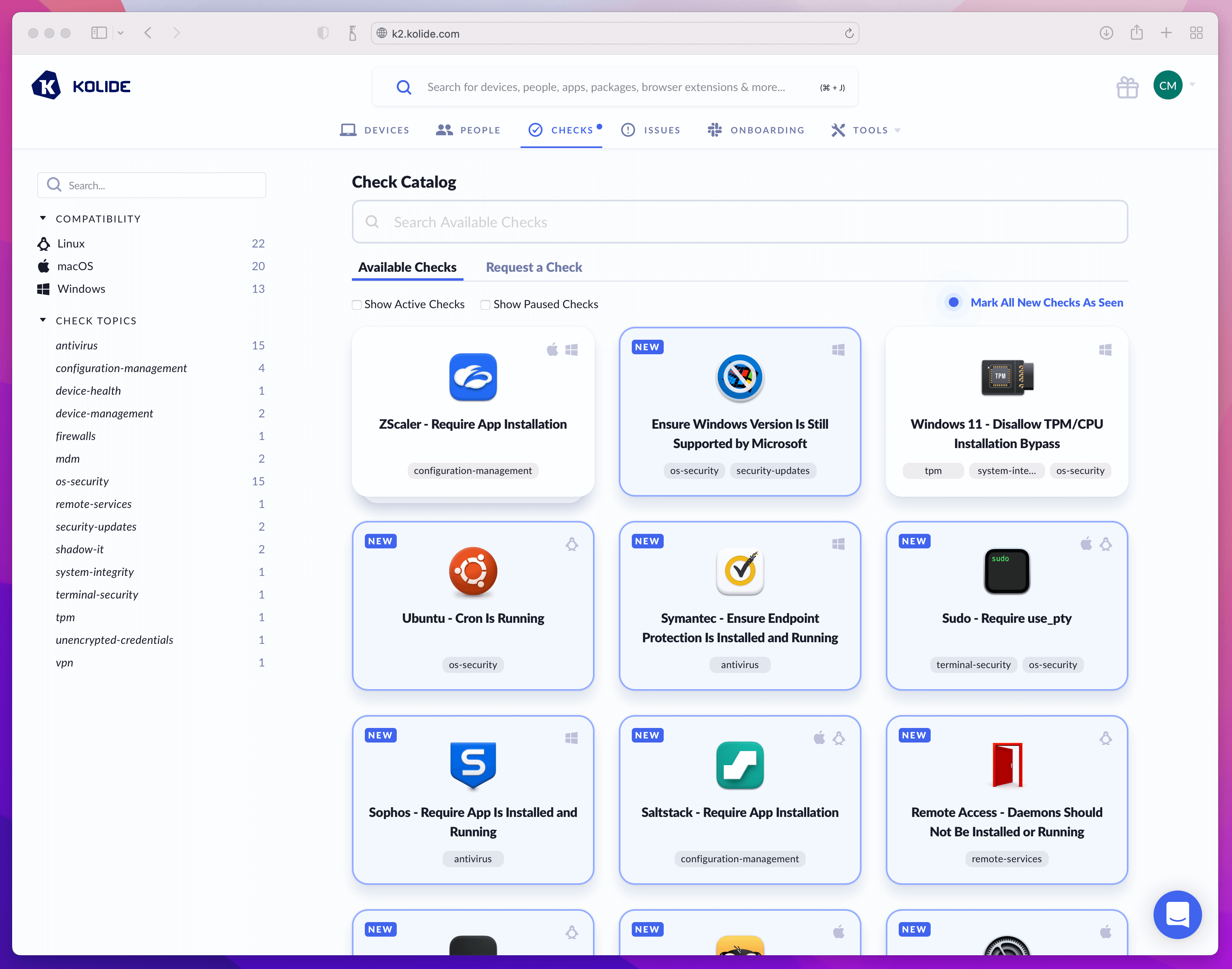 The Check Catalog allows Kolide admins to peruse available Checks that they may want to add to the ones Kolide ships by default.
Here are the things you should know:
The Check Catalog is the place where you can find new Checks you haven't run before.

A blue dot will appear next to the Checks navigation link when there are new Checks available that you haven't seen before.

Instead of Kolide enabling some Checks by default, going forward, all new Checks will appear in the catalog, allowing you to control when they are enabled.

Checks that were previously called "disabled" are now called "paused." You can also now access and configure paused Checks and still see their issues.

In addition to pausing Checks, you can now remove them as well. When you remove a Check, it goes back to the catalog and all of its associated issues are deleted, allowing you to get a fresh start.
The Check Catalog gives you the opportunity to learn more about a Check before you decide to enable it. When you click on a Check in the Catalog, you will now see a preview.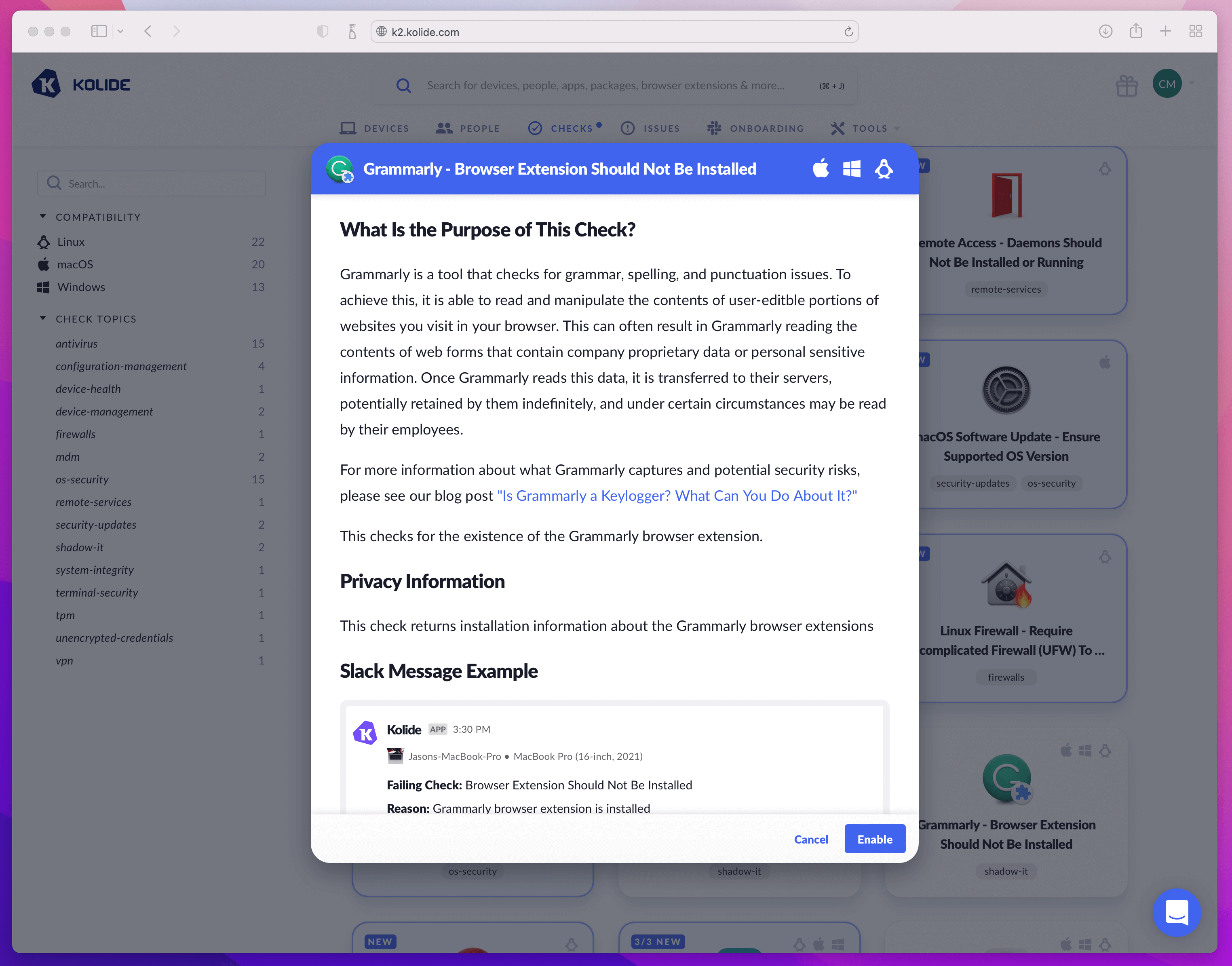 Previews allow a Kolide admin to understand what a Check does before running it
This preview contains all the same information we include in the Privacy Center for each Check, plus a preview of the Slack message, should you decide you want to enable end-user notifications.
If you are unfamiliar with Super Duper Search, it is the global search capability at the top of Kolide's navigation. This search feature can help you find Devices, Checks, People, and "Installables" (apps, packages, extensions, etc.) by simply searching their name or other relevant unique details.
Previously, only active Checks could be searched in the Super Duper Search at the top of the app. Now, all Checks, including those which are paused and/or Checks in the Check Catalog will appear in the search results.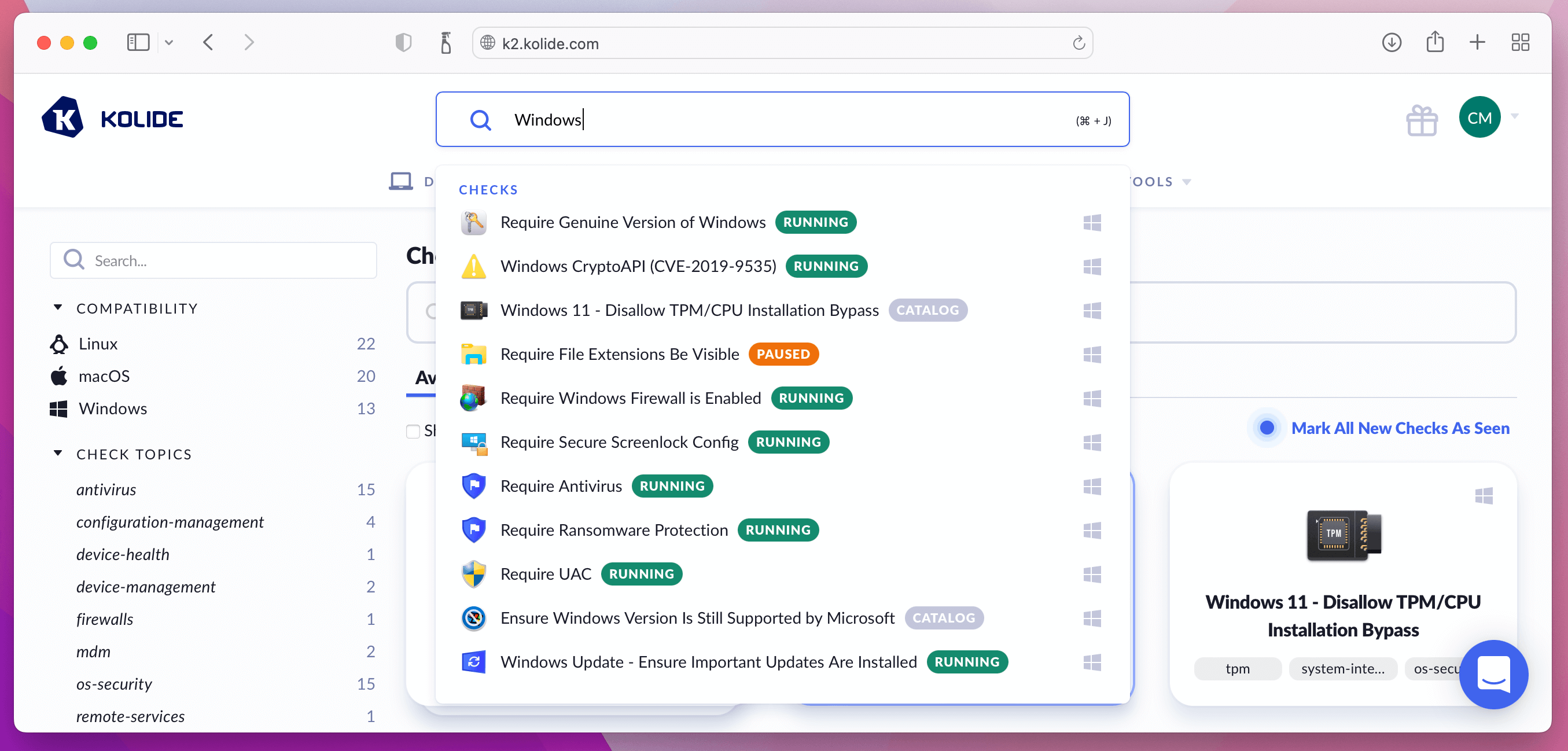 Previously, when you disabled a Check it would join other Checks you disabled and Checks you've never run before. Now that we have the Check Catalog, we can create a clean separation between Checks that are paused and Checks that you may be interested using in the future.
When a Check is paused, Kolide will no longer send notifications, nor will it run the Check on your devices. Additionally, the existing Issues in a paused Check are hidden in the Device Issue's listing in the UI, Slack, and our API.
You can choose to re-enable a paused Check at any time.
We've also added the ability to continue to browse the data within a paused Check. In addition, you can configure a Check's preferences and view assigned issues while it is paused.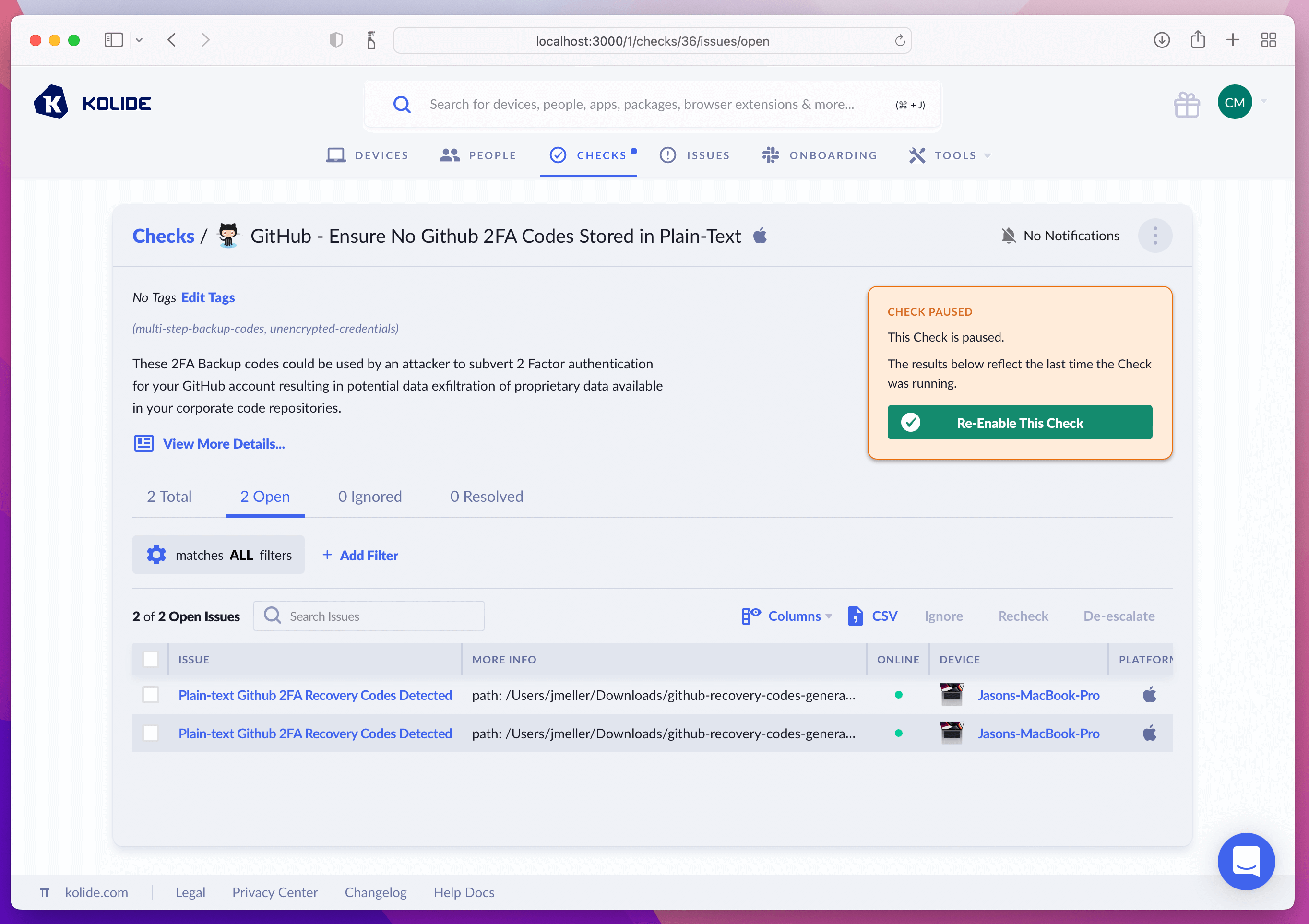 You can now access, configure, and view Issues for paused Checks.
When Kolide adds a new Check, a blue dot will appear next to Checks in the main navigation. From there you can click into the Catalog and locate new Checks. Once you view them (or mark all Checks as seen), the badge goes away.
Kolide often ships Checks that work great across all of our customers and on virtually all devices without any special customization. If a new Check meets this criteria, Kolide will add a star next to the Check's name. The Star indicates this Check is enabled by default for all new customers and that you should strongly consider enabling it for your own account.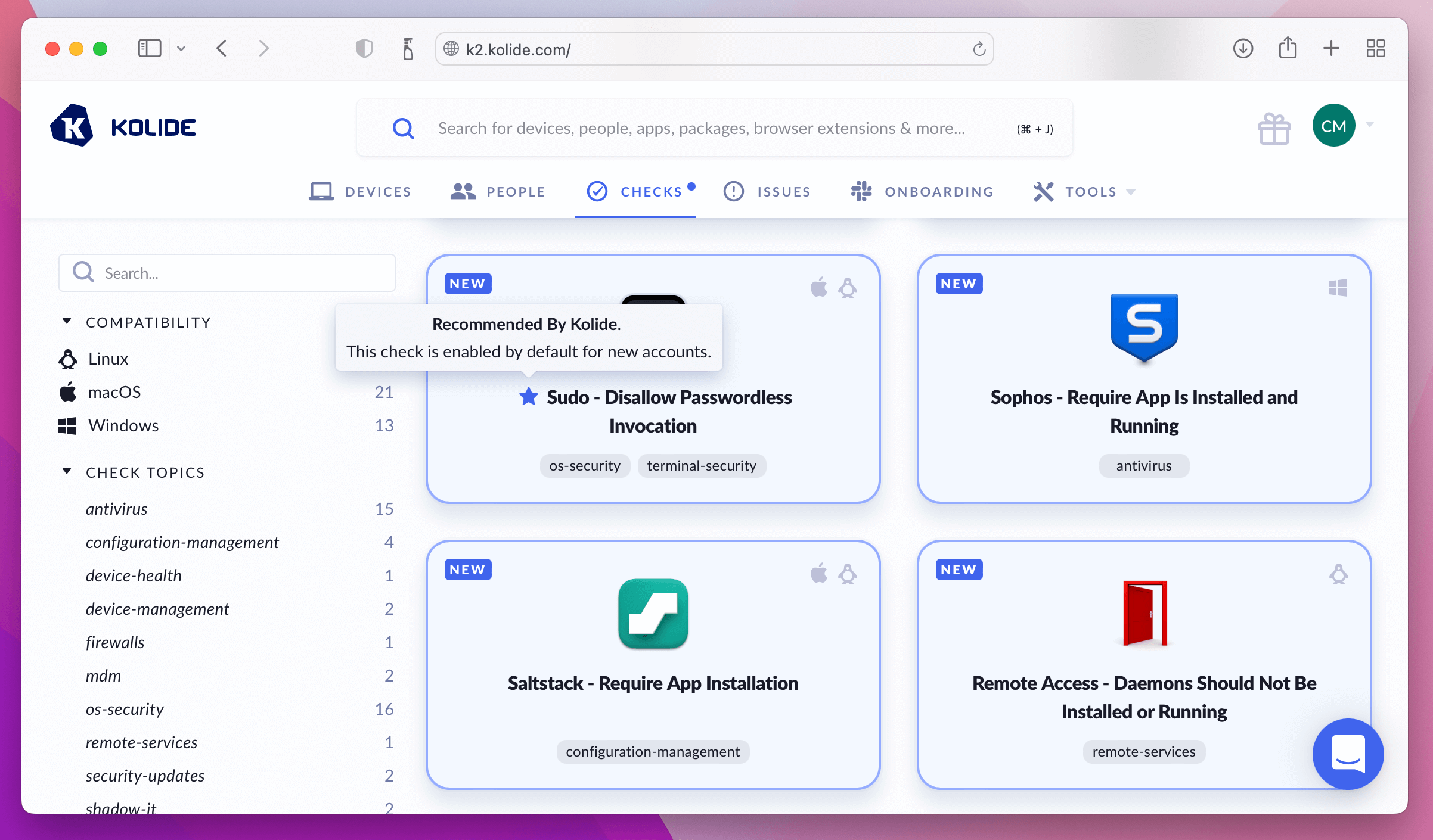 ---
Kolide adds new Checks on a regular basis and we hope that this feature allows you to more easily find Checks that best suit your organization's needs. We have more improvements to Checks coming later this summer and cannot wait to share them with you.